Hi there,
It's Gus from the Growth Team at Holistics, again :).
We are excited to bring you up-to-date with some of the most exciting (and newest) Holistics updates - let's unfold what we've shipped in the past month!
Community Highlights
Let's take a glance at some interesting community posts we've handpicked for you:
For more of these, feel free to join our community. We'd love to have you there!
Product Roadmap Highlights
Here are a few notable projects we're been actively working on:
Holistics' AMQL (Analytics Modeling and Querying Language) - an integrated set of 2 analytics-as-code languages designed to enable data analysts to define analytics logic in code.
Better Search Experience: Help users find their reports easier with fuzzy searching/similarity search + better ranking.
Time Filter: Support dashboard filters that allow users to select up to hour/minute granularity.
Curious about what just got shipped, or what we're shipping next? Check out our public product roadmap at: roadmap.holistics.io

Reminder For Unsaved Changes In Modeling
Forgetting to save changes can put a significant damper on your workflow: No one wants to do things twice.
This is why we've added a little pop-up reminder for your unsaved changes to mitigate any potential errors while you're building your data models.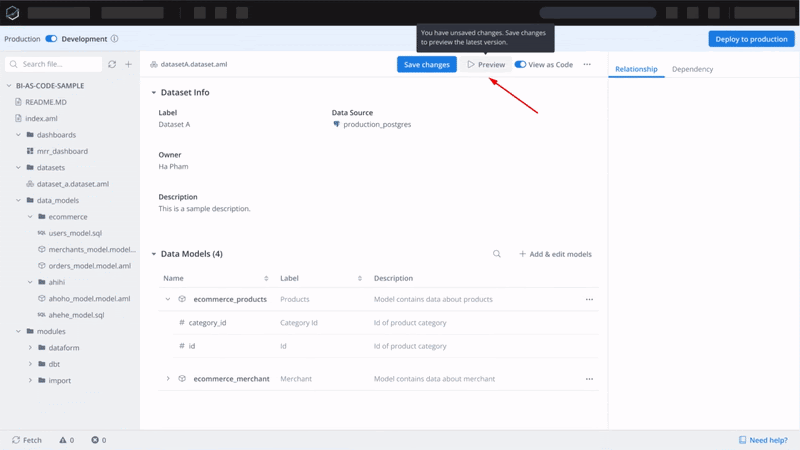 APIs for Listing, Bulk Inviting, and Updating Users
Admin users can now use our newly released APIs to programmatically invite multiple users, retrieve a list of users, and update their information.
For additional information, please refer to our public document at the following link: Holistics API Holistics Docs

Data Alert API Package
I'm happy to share that we've recently released the Data Alert API package at Holistics! This comprehensive package offers full configuration for data alerts related to specific data events, including:
CRUD data alerts
Submit test data alerts
Immediate data alerts triggering
For additional information, please see our community post here: Launched: Data Alert API Package

Dashboard Metadata (Coming Soon)
We're working on a new feature that offers enhanced dashboard metadata visibility - enabling users to quickly access information such as dashboard creator, modification date, and other pertinent details.
This functionality is designed to provide users with a more comprehensive understanding of their dashboards and foster better collaboration.
Stay tuned, we'll be releasing it very, very soon!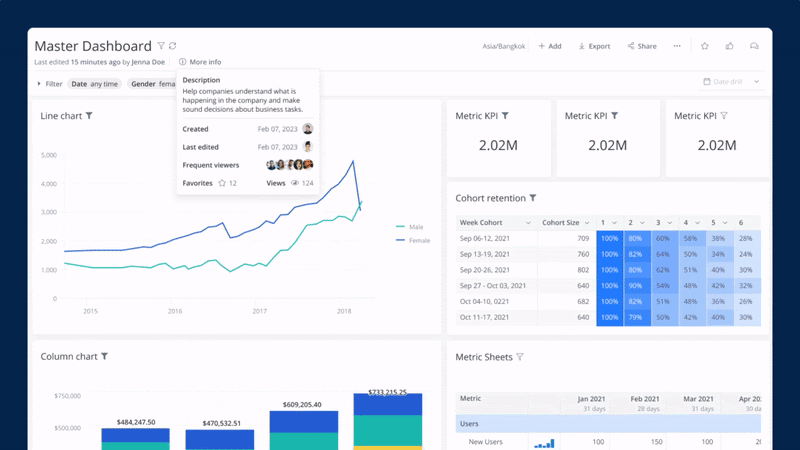 User Profile (Coming Soon)
User Profile is getting added to Holistics. With this feature, we hope to provide a more personalized and engaging environment for team collaboration.
With User Profile, users can update their personal information, including names, job titles, departments, and unique avatars - all to establish a social presence on Holistics and connect with other users in a more meaningful way.

Feb UX Updates: New onboarding flow, better reporting experience, and more!
Take a look at these 10+ UX improvements we delivered over the past month to give you a more Holistic(s) experience.


February UX Roundup: 10+ UX Improvements and Updates
Data Joke
Sorry about the da(ta)d jokes. It's all we got : )

That's all for this month. Stay safe and see you next month