Hello from Holistics team!

Always striving to make your experience better and more enjoyable.

We've worked hard to make some more UX Improvements and even the little tweaks count!
Take a look at the 10+ things we did over the past month to give you a better Holistics experience.

We won't rest until your experience is the best it can be.


Reporting
In Custom Dimension, we adjusted the spacing between the icon and field name to align with other places throughout the app.

Unified loading indicator UI of all tabs in Dashboard Preferences
General UX & UI improvements
In Datasource modal - Tunnel connection, we restyled the "Generate Reverse Tunnel Script" button from secondary to primary, making it easier to see.

Close [x] button in the Warning banner is now white and distinct from the background.

Improved empty state's copy in SQL Editor to be more accurate (from "dataset" to "fields list")

Added loading indicator to Embeded Analytics.

Users' names with special characters (&, ", ') are now displayed properly.

Copy in the Logout Confirmation Modal has been improved and made more concise.
New Onboarding Flow
We recently made a significant overhaul to our onboarding flow - making it more intuitive and easier for new users to quickly get started with Holistics.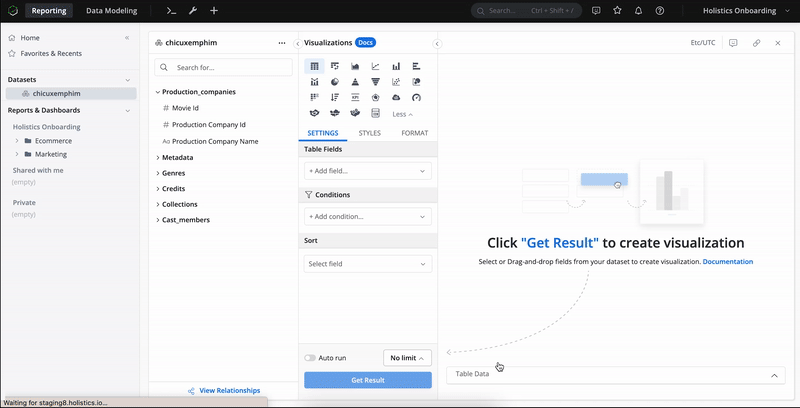 Other
Fixed the overlapping dropdown in Onboarding screens - Data Warehouse connection.

We deprecated the rating form after saving new report since we have introduced other feedback forms in app.
All OK, bye for now!


Folks, be on the lookout for the next update. We appreciate your participation in the Holistics community