Hi everyone

,
As the Beta program has come to a successful close, we are pleased to announce the Official release of the Usage Monitoring feature!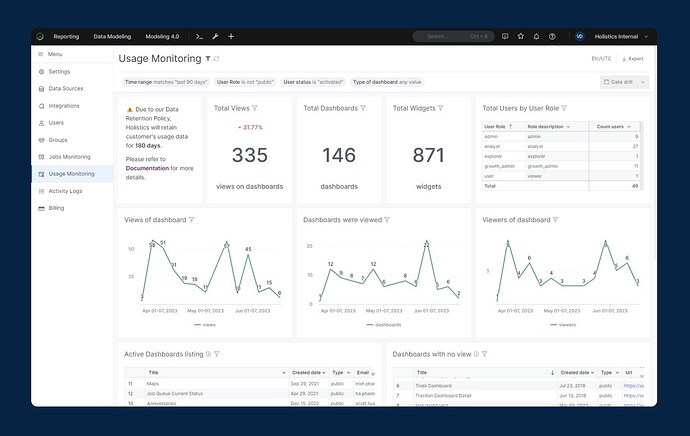 During the Beta phase, we introduced numerous upgrades to the Usage Monitoring dashboard, including:
Additional widgets: A list of Dashboards with no views & a list of Users with no viewing activities
Additional tracking: Usage of private dashboards, in addition to public workspace dashboards
Dashboard performance improvements
and many more!
We extend a huge thanks to our beta users, for your interest and great support throughout the process!
For additional information, please refer to our public document: Usage Monitoring | Holistics Docs.
Cheers!

---
Further notes:
The Usage Monitoring dashboard will be released to all Holistics customers.
However, certain extra features in Usage Monitoring will only be available in Standard plan and above, following the latest Pricing version (learn more).

These features include:

Export of Widget data (Excel, CSV)
Date-drill

For beta testers who are in the Entry plan, we'd love to offer you a 3-month trial to continue using these extra features. Please let us know if you are interested in further trial.
For further enquiries, please let us know via this form: Holistics' New Features - Enquiry Form.