About dbt Integration
dbt is a popular data transformation tool that data teams use to pre-transform data inside data warehouses before pushing to the BI layer. However, a common problem data teams face is: dbt and BI tools don't talk to each other. This leads to problems like:
Disconnected metadata at BI layer: The table fields' descriptions defined in dbt are not exposed to business users in the BI interface.
Discontinuous Data flow trigger (Stale data in BI reports when data refreshes) : when underlying data tables get rebuilt by dbt, the BI reports might still be using the cached, stale version.
Holistics supports "dbt integration" that solves the above 2 problems.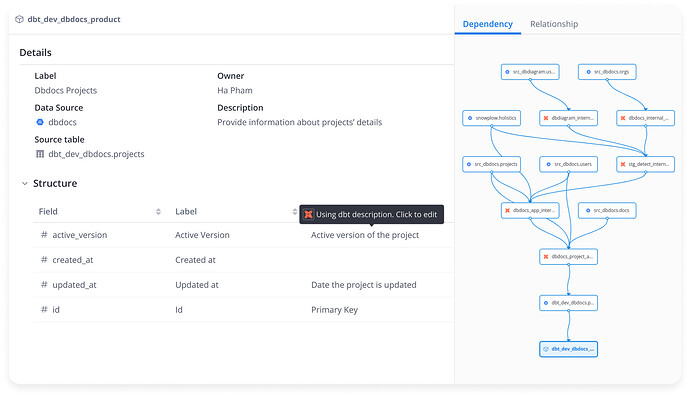 Related resources
Common Questions
What is the relationship between the dbt model and Holistics' table model for the same underlying database table?#
No direct relationship. Remember that there are 2 different concepts:
dbt model: A SQL query that gets persisted into a database table.
Holistics' Table Model: An abstraction on top of an existing database table.
I am using dbt Cloud, how can I integrate with Holistics?#
dbt Cloud is unfortunately not supported at the moment. For now, you need to set up dbt CLI to integrate with Holistics.
---
Let us know if you have any questions or feedback in the comments below!