|Hi there,
It's Gus from the Growth Team at Holistics. Trust you're doing well.
This month, we've brewed some exhilarating tweaks and updates and I can't wait to tell you about them. So without further ado, let's dive headfirst into this buffet of analytics deliciousness!

Community Highlights
Let's take a glance at some interesting community posts we've handpicked for you:
[Beta Closed & Official Release] Timezone Settings
Drum roll, please…because thrilled as we are to announce the official release of the Organization Timezone feature, following a successful Beta program! Thank you for sending us all your insightful comments and thoughts - and we've been putting those to work!
We have plans to tackle other use cases, including dashboard-level timezone settings and the ability to skip timezone conversions for specific fields. Stay tuned!
For more information and detailed instructions, please refer to our public documentation: Timezone Settings | Holistics Docs
[Launched] Relationship Diagram for Holistics As Code
The highly-requested Relationship Diagram for Holistics As-code (Holistics 4.0) is finally here.
Going forward, you have the option to work with your relationships in the Diagram view beside the usual List view.
(It's like choosing between a hearty medium-rare steak and a creamy and cheerful lemon cheesecake - having one is good, but having both is even better!)
[Coming soon] Analytics Query Language (AQL)
Excited to share that we've been tinkering and toiling in the depth of our tech lab for our brand-new Analytics Query Language - AQL. With AQL, you have a more powerful and flexible way of querying data for various analytics use cases:
Cross-model calculation - Perform calculations across multiple models without having to merge the data via SQL Model manually.
Nested Aggregation - Create more complex calculations by nesting functions and aggregations within each other.
Add filtering in an AQL Expression - Filter your data at the query level rather than having to do it in a separate step.
Support Date/Time Intelligence Functions - Analyze your data over time using powerful date/time intelligence functions.
And this is just the tip of the iceberg. We're confident that AQL will make your analytics workflow smoother than a buttered penguin on an ice slide. (imagine that!)
For example, with AQL, you can perform Subgroup Calculations flexibly and easily without having to create SQL (or transform) Models. Like this:
Here's the sample syntax:
sum(order_items.quantity) * 1.0 /
  eval(sum(order_items.quantity),exclude(users.age_group))

If you want to join our beta, check out our official community post: [Upcoming] Our brand new Analytics Query Language, AQL!
Also, please share some of your use cases that would benefit from AQL. As always, we appreciate your support and feedback.

[Coming Soon] New Table with Improved Performance
In our quest to make you an experience that's less "ho-hum" and more "'holy guacamole!" - we're rolling out our souped-up, upgraded table feature for better performance and vastly improved loading times.
In all of our tests, the new table exhibited superior performance in terms of rendering data, FPS (Frames Per Second), and CPU usage compared to Handson-table (you'd swear we just put your table on a diet and sent it to the Olympics!)
Here's an example:
Rendering table: New Table - 00:00;27 vs Old Table - 00:05;00
Cross-filtering: New Table - 00:00;22 vs Old Table - 00:02;20
[Launched] API to Update Data Source
Fresh out of the oven: API for Updating Data Source!!

More details here, if this is something you're interested in: Data Sources API Package | Holistics Docs.
[Launched] API Package for User Management
We have upgraded our Users APIs with much more power, such as delete, restore, resend invites, and more! Now it's ready for you to take the workflow automation of User Management to a whole new level!

Check it out at Users API Package | Holistics Docs.
[Coming Soon] Better Keyboard Experience
Imagine running a marathon in flip-flops. It can be done - but at what cost?
An efficient keyboard is like a pair of top-notch running shoes - it just makes the journey more bearable, especially when you're sprinting through heaps of data. This is why we'll be introducing a new array of exciting features to help you keyboard-sprinting through data - instead of flip-flopping through it

We'll be rolling out the following features:
Command Palette
Unified Command Palette & Search experience
[Upcoming] Keyboard Shortcuts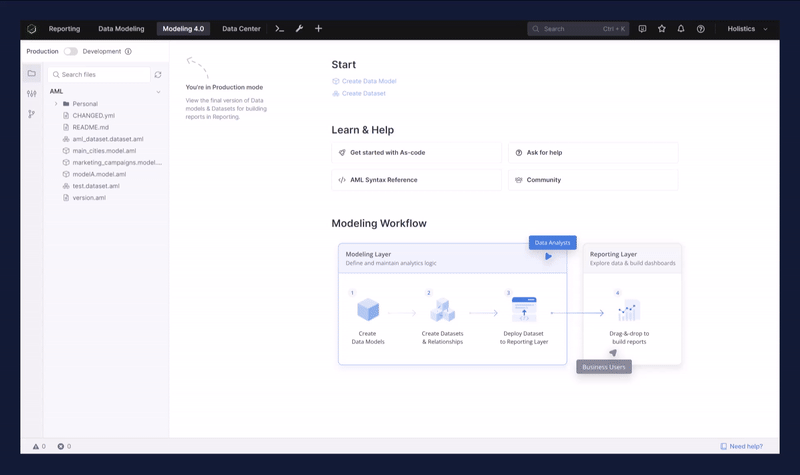 May UX Updates: New flow for applying conditions, better reporting experience, and more!
In May, our team delivered 10 updates to give you a more Holistic(s) experience - check it out here: May UX Round-Up: 10 UX Updates You Might Notice.
A Meme A Day Keep Troubles Away
"Imagine building reports for every data request in the ultra-high-resolution 23-million-pixel display. With a unique dual-chip design, every English-to-SQL job now feels less dreadful than ever. All for just $3499!!"
P/S: Holistics Monthly Product Updates are sent to all Holistics users. However, if you're forwarded this email and want to get more updates from our Product team, join our newsletter
That's all for this month! Stay safe everyone, see you next month!