Hi everyone, it's Gus from Holistics Growth Team
I'm happy to share with you a summary of the most exciting (and newest) Holistics updates - let's unfold what we've shipped in the past month!
Community Highlights
Let's take a glance at some interesting community posts we've handpicked for you:
For more of these, feel free to join our community. We'd love to have you there!
Brand-new Product Roadmap Page
We are excited to share that we just released a new Product Roadmap page - making it easier for you to keep track of our latest product development plans and see what's in store for the future.
The Product Roadmap is now accessible via: roadmap.holistics.io
Recording of Custom Chart Webinar Is Now Available
Last Friday (Feb 03), we hosted a webinar on how to create custom visualizations with Vega-lite in Holistics. With this webinar, we hope our Admin/Analyst users will be able to extend their visualization options and meet special analytics use cases.
This webinar provided training on how to:
Define fields using Holistics AML
Control styling options for your charts
Adopt vega-lite library for template definitions and refactor basic vega-lite templates to add flexibility to your visualizations
If you missed out on this webinar - don't worry. Here's the recording: Getting More Out Of Holistics - Custom Charts: 101.
Select Specific Widgets For Email Schedule
Dashboard fatigue is a real thing. You don't want your data consumers to get numb from spending too much time staring at reports/dashboards that might not be relevant to their jobs.
Now you can send the right reports to the right people by customizing which particular widgets to include in your email schedule.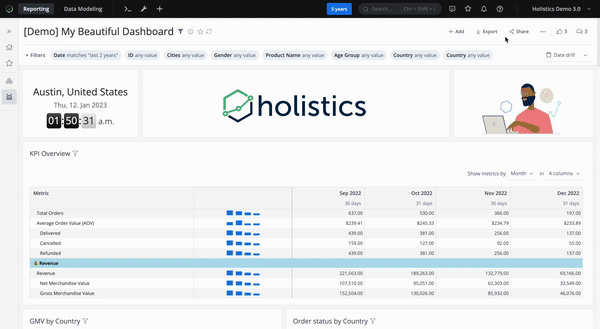 Jump To The Exact Data Model in Modeling 4.0 from Reporting Layer (Coming Soon)
With the latest update, users can now simply get navigated to the exact Data Model in Modeling 4.0 in a matter of a click! No more getting lost in a stack of Data Models.
Better Search Experience (Coming Soon)
It's not really self-service when data consumers have to be data archeologists - tediously digging around the BI tool for hours to find the right report.
We are excited to share that our team has been improving Holistics's search capability. With these upcoming features, data consumers will be able to find and retrieve items in Holistics with ease. Search results are more relevant, more context-driven and organized for better scan-ability.
Say goodbye to the tedious search process and hello to a more efficient and streamlined experience
18 UX Improvements

Yep, we shipped out 18 new UX improvements in January. Better in-app experience remains our top priority.
Data Joke
What if Bill Withers is a data analyst?
If you get it, you get it. But if you don't, here's a clue