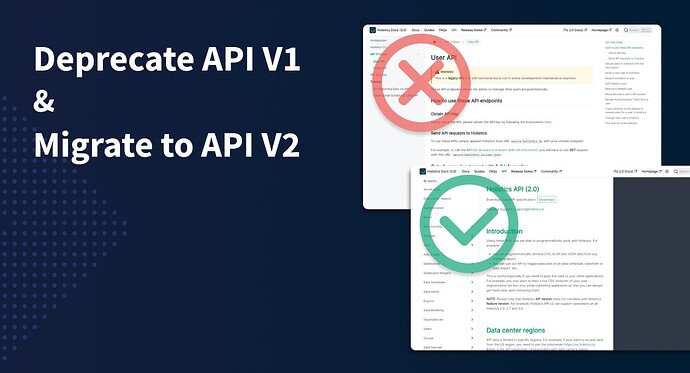 Hi everyone

,
Over the past few months, API V1 has been considered our legacy API. While still functional, it is not actively maintained. Meanwhile, we have been developing API V2 as a more powerful, flexible, and well-structured version of V1.


You can learn more about it here: Holistics API (2.0) | Holistics Docs.
So what's new?
Now that API V2 has surpassed its predecessor in both functionality and experience, we feel that it's high time we deprecated V1 & helped you migrate your applications to V2.
The next steps🚶

For our dear customers who are using API V1, please help update your API-utilizing applications with our API V2.
Please be assured that every function supported in V1 is already available in V2, and more! Therefore, we expect no interference in your automation workflow after you migrate.
We apologize for the inconvenience of having to update manually. However, we are here to support you with any difficulties you may encounter.

API V1 will still be functional until October 31st, 2023. After that, it will be deprecated and no longer work.


Please let us know if you have any further concerns.
Cheers & all the best!