Hello Holistics community!
We are excited to announce some recent enhancements that have been made to improve the user experience. Let's take a closer look at them!
AML
Measures in the dataset GUI view are now highlighted, as in the data model view.

We updated the "Discard Changes" button by adding a new icon and improving its interaction.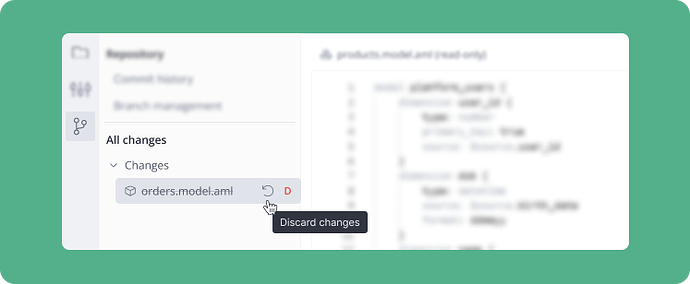 The diff code blocks in the Commit history page sometimes are not fully shown when refreshing the page. We fixed that.

We corrected a small typo in the quick action section on the default AML page.

In the Model Preview panel, we improved header alignment.
General UX & UI improvements
Updated the confirmation message when deleting a widget with no name.

Radio buttons sometimes delay disappearing after closing a modal, we fixed it.

Adjusted the height of the Exported Widget field in the Data Delivery panel to fit its content.

We unified loading messages to show at the center of the page for consistency across different places.
That concludes this month's update. We welcome any feedback or suggestions you may have to aid us in enhancing the product further. We look forward to seeing you again next month!