Hi,
I think I found a similar question in the community but it was not answered due to lack of details (Filtering The percent of Total by Data Range). I want to calculate the percentage of total for a set of data which should be changing dynamically based on a date range.
So let's say I have the following model table showing the row sales per day, department and country which looks like this and let's name it: 'raw_data' table.model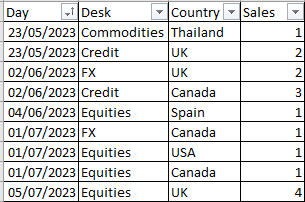 I want to be able to calculate the percentage of each country per desk as per the below: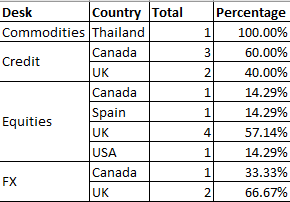 This is easy to do if I create a transform model based on the guidelines here: Calculate The Percent of Total in Holistics | Holistics Docs and create a transform model with the sum of sales grouped by desk. Then join the new transform model (let's call it 'sales_by_desk) with the 'raw_data' model on Desk. This gives results regardless the date.
Now, if we want to add dates into the equation, here is where it becomes tricky. Following the use case 2 of the above guidelines link, we have two options:
Either join the two models based on the concatenation of Desk_Date
Create a new table for Dim_Dates and join the two tables based on the Dates 1 to many.
The problem is that this solution only works if we want to see the above percentages for each day separately. It won't work if we add a filter to allow user to select custom ranges.
E.g. let's say they want to select a range for July 2023 only. It should give something like this: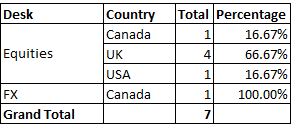 I haven't been able to make it work as the above joins in this case give multiple combinations for dates and/or desks. Is there a solution/workaround to this problem?
Many thanks,
George