Hey folks!
I know that you are itching to know what we will bring to you this month and I won't let you down. Here are our September updates
More seamless experience when importing Spreadsheet
Are you primarily working with Google Spreadsheet and tired of changing the default data type (which is all Text type) for its columns one by one.
For now, just need to validate the spreadsheet link as usual and we will suggest the columns' data types for you.
What are coming to town
Business Calculation
How to empower business/non-technical users? By giving them the ability to get the insight they want without waiting for analysts.
Soon, Business Calculation will be launched to help Explorers in creating custom dimensions or measures quickly when exploring datasets or reports without touching the underlying data models logic.
Metric Sheets
Every company has its own KPIs or North Star Metrics that C-levels and executives are deeply concerned about.
With this new visualization type Metric Sheets, you can put all metrics important to your business in the same sheet and compare them by different time periods i.e. daily, weekly, month to date, year to date…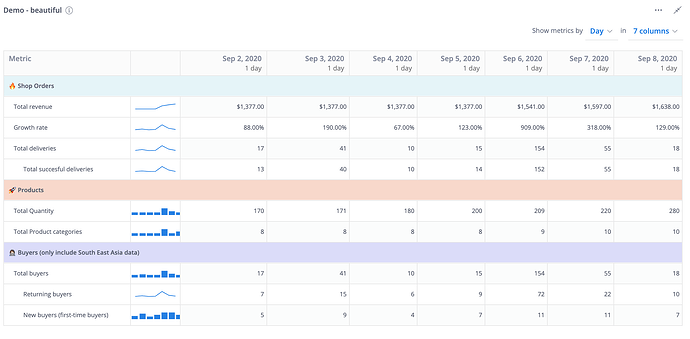 Other highlights
Highlight the selected filter when you click on any filter in the dashboard
Support option to enable/disable option to export data in Embedded Dashboard
From the brains behind Holistics